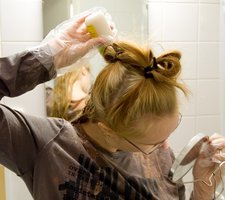 Coloring your hair takes time and effort. Professional hair coloring can also be quite expensive. The process can be especially drying and damaging in certain situations. These are the main reasons for taking some small steps to make your hair color last longer and keep it looking fresh and new while maintaining strong healthy hair.
Make Hair Color Last Longer Avoid the Sun
Try to avoid excessive sun exposure for your colored hair. If you are going to be in the sun for an extended period of time, consider wearing a hat or a bandana to cover your colored hair. Not only will the rays of the sun make your color fade faster, they will also dry your hair out.
Make Hair Color Last Longer By using Color Products
Use hair care and styling products that are specifically designed for color treated hair. They may help keep your hair color looking fresh for weeks longer than regular shampoos and conditioners. Regardless of the color you chose to dye your hair, you should be able to find products that will prolong the life of your treatment. Since blonde and red colors are particularly difficult to maintain, special products are available to nourish your hair after coloring.
Shampoo For Color Treated Hair Should I Use it?
Even colored hair protecting shampoo and conditioner can wash the color out of your hair. Try to avoid washing your hair everyday. Washing and conditioning every other day should be sufficient. Also, avoid leaving shampoo in your hair for more than a couple of minutes. Consider wearing a swimming cap when swimming in chlorinated water or salt water, which are more damaging to colored hair. Quickly rinse your hair with fresh water after any exposure to chlorine, bleach, peroxide or salt water.
Hair Products For Color Treated Hair
Special products that add gloss, shine and moisture to your hair will also keep your color looking new. Do not overuse these products, however, because they can make your hair look greasy. Use just enough to hydrate your hair and make it shiny. Try not to apply them to the roots of your hair to avoid clogging the pores in your scalp.
Colored Hair Heat
Heat styling tools are especially damaging to processed hair. The heat dries out hair that has already undergone a coloring treatment, which can cause drying. Combining the two can cause breakage, split ends and coloured hair that appears unhealthy.
Colored Hair Bleach
If your hair color requires you to use bleach, you should carefully follow the instructions of your stylist or the directions printed on the box when bleaching colored hair. Bleach is a particularly drying product that can create dry, brittle hair. If your hair was gray before the coloring process, you may need to take extra precautions to keep your hair healthy. It is also important to avoid trying to make a drastic change all at once. If you decide to make a major change, do it gradually by edging closer to your desired shade every time you color.
You can make your hair color last longer. You will save time and money while keeping your hair looking strong and healthy by using specially designed products. Any type of hair treatment requires extra nourishment to avoid the split ends and breakage associated with unhealthy hair.