Pele, widely considered one of the greatest soccer players of all time, passed away on December 29, 2022. His passing is met with sadness and condolences from fans and fellow soccer players around the world. RIP
As a tribute to his memory, and to honor him, we have created this Pele Art Print which is free to download and print.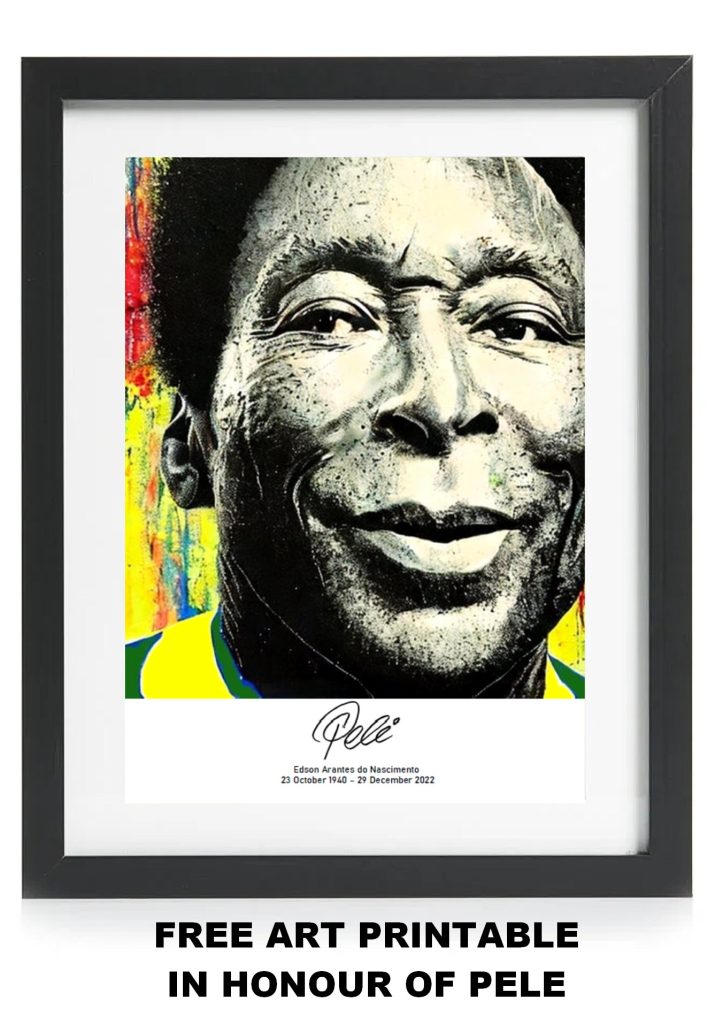 Pele Art Print free to download
For Private Use Only, if you want to use this commercially, please contact us
The passing of a legend is always a somber moment, and the news of Pelé's passing has left the world of football in mourning. The Brazilian football icon, known as the "King of Football," was a player who transcended the sport and inspired generations of players and fans alike.
Pelé was more than just a footballer. He was a symbol of hope, a source of inspiration, and a true ambassador of the sport. He was an artist on the pitch, and his masterful dribbling, incredible ball control, and unmatched goal-scoring ability have earned him a place in the annals of football history.
But Pelé was much more than just his on-field exploits. He was a man of integrity, who always carried himself with dignity and humility. He was a man who used his platform to spread love, joy, and positivity to everyone he met. And he was a man who always put his family and his country first.
In honor of Pelé's life and legacy, we are giving away free art to commemorate this great man and his incredible achievements. We believe that art has the power to heal and to bring people together, and we want to use this opportunity to celebrate the life of one of the greatest footballers to ever play the game.
Whether you are a fan of football or not, there is no denying the impact that Pelé has had on the world. His skill, his heart, and his spirit have touched the lives of millions of people, and his legacy will live on for generations to come.
In addition to his impact on the field, Pelé also made a significant impact off the pitch. He was a champion for social justice and used his fame and influence to bring attention to important causes. He was a strong advocate for children's rights and worked tirelessly to improve the lives of children in need.
His selflessness and generosity were a testament to the kind of person he was. He always put others before himself and never forgot where he came from. His humble beginnings in Brazil only served to make him even more grateful for the blessings in his life, and he never forgot to give back to those in need.
Pelé was a true ambassador for the sport of football and a true ambassador for Brazil. He embodied the passion and joy of the game, and his impact on the sport will never be forgotten. He was an inspiration to millions of people, and his legacy will continue to inspire future generations of footballers and fans alike.
As we remember the life of Pelé, let us also remember the values that he embodied. Let us strive to be kind, humble, and selfless, just as he was. And let us use our own platforms, no matter how small they may be, to make a positive impact on the world.
In conclusion, the passing of Pelé is a loss to the world of football and to the world as a whole. But his legacy will live on, and he will continue to inspire us for years to come. Let us honor his memory by celebrating his life and the impact that he had on so many people.
So, in the coming days, we encourage you to take a moment to reflect on the life of Pelé and all that he accomplished. Remember the joy that he brought to millions of people, and be grateful for the memories that he has left us with. And if you would like to receive one of our free art pieces, simply reach out to us, and we will be happy to send you one as a tribute to this great man.
Rest in peace, Pelé. You will always be remembered as the King of Football.