NOW Available
Military Calendar 2012 Free Printables
We have put together a selection of easy to make free military printable calendars for you. Download the free military calendar of your choice from the designs from below.
Military Calendars available for free each with their individual seals free are
Marine Corps Calendar

Army Calendar

Navy Calendar

Air Force Calendar
Dont forget we also have other calendars to tell you friends and family
You will likely already have Acrobat PDF Reader installed on your machine, if not to view these Military Calendars and other pdfs on the Internet you can download it from here.
Marine Corps Calendar 2010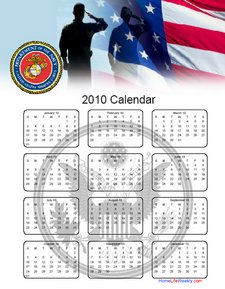 Download Free Marine Corps Calendar
Army Calendar 2010
Navy Calendar 2010
US Navy Calendar Download Printable
Air Force Calendar 2010