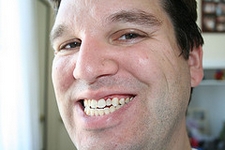 This recipe is excellent for removing cigarette, coffee and tea stains from your teeth a good cheap alternative to teeth whitening powders.
Ingredients:
2 Tbsp dried lemon or orange rind
1/4 cup baking soda
2 Tsp salt
Directions:
Place rinds in food processor, grind until peel becomes a fine powder. Add baking soda
and salt then process a few seconds more until you have a fine powder. Store in an
airtight tin or jar. Dip moistened toothbrush into mixture, brush as usual.