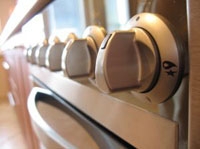 How to Clean the Outside of the Oven
Wipe clean with a gentle cleanser, or try glass cleaner.
Never clean the oven if its hot as the heat with evaporate the cleaning solution, plus you could burn you hands!
Don't scrub the outside, instead clean any spills immediately.
To clean the oven racks soak in warm, soapy water. If you have a stove with a flat top simply spray with a gentle cleanser and wipe dry.
How to clean the Inside of the Oven
Wipe up on the inside of the oven door as soon as you can otherwise it will prove more difficult to remove.
Use a gentle cleanser with a damp sponge to wipe the seal around the door.
If you have a self cleaning oven, heat the oven to a very high heat for a few hours to burn off spills and stains, or put the oven into self cleaning mode. Remember to open the windows and doors as it can get a bit smoky.
To keep your continuous clean oven regularly clean with it with a little dish washing soap and water.
To save cleaning time in your oven use a bit of aluminum foil placed on the bottom rack to catch any spill from the middle shelf.
Clean you oven at least once a month
Use an oven cleaner to remove stubborn stains.