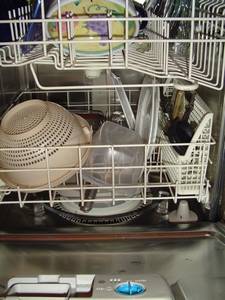 We all know how expensive dishwasher detergent can be so here is a way to make you own dishwasher detergent with this simple recipe.
What's needed
1 Cup washing soda (crystals)
1 Cup of Borax
Air Tight Container
Here's what you need to do
Place all the ingredient for the detergent into a food processor bowls.
Now process until the washing soda is reduced to powder.  It's as simple as that!
Store your home dishwasher detergent in an airtight container
Use between 1 to 2 tablespoons per load in your dishwasher. If you live in a hard water area you will most likely need 2 tablespoons per load.
Still use Rinse Aid in your dish washer? Try white vinegar instead, it cheaper and does the same job.