There is no need to be out of date with your antivirus, here is how to get
Kaspersky
powered software for free and save $49.00. I couldn't believe it but AOL have joined with Kaspersky to provide antivirus for free.
Here is the Kaspersky Anti-Virus screen shot:-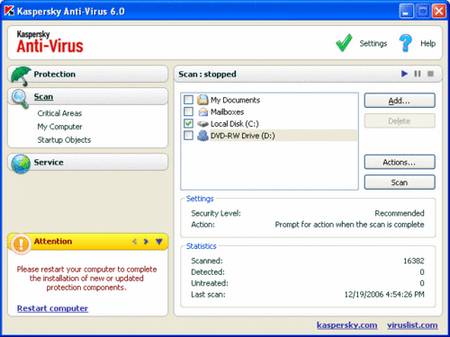 And here is the AOL Active Shield Version: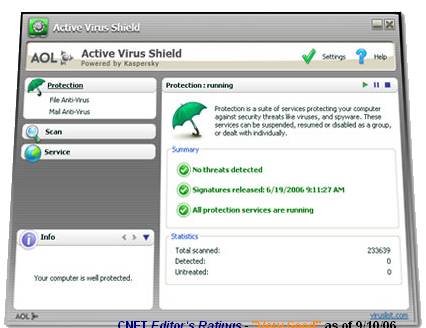 There are very similar the only difference is the price!
What do you get for your money?
Well for a starts its free!

Highly Effective Antivirus Protection provide from Kaspersky

Real-Time File Protection

Email Protection.

Automatic Hourly Updates
Simple And Easy To Use
Frequent Updates
Optimized For Laptops
On-Demand and Scheduled Scanning
Disinfects Files in Archives (ZIP, ARJ, CAB, RAR, LHA)
Option to Scan Only New And Modified Files
Harmful Program Blocking And Removal
Disinfect SMTP, IMAP4 & POP3 Email
Variable Scan Speed
Help Prevent Slowdown During Increased Computer Usage Periods
Easy-to-install, works with most Windows® operating systems. (Windows 98, 2000, ME, XP & Vista)
Support Microsoft Windows XP x64
If you don't know what some of this technical stuff means don't worry its all good.
So without further a do here is the link to Active Virus Shield.
Don't forget to spread the word by clicking Tell a Friend link below and subscribe for more tips