To make homemade oven cleaner you will need the following:-
 Homemade oven cleaner ingredients
1 Half a cup of salt
1 Half a cup of baking soda
1 Half a cup of water
1 Quarter cup of vinegar
Seal any holes in the bottom of the oven with foil to stop the oven cleaner from leaking into the broiler.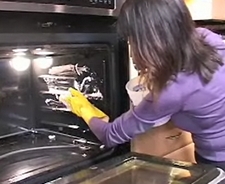 Mix the home made oven cleaner ingredients together to make a stiff paste.
Now spread the cleaner mixture on the walls and bottom of the oven. You will need rubber gloves to protect your hands while you spread the oven cleaner mixture. Do not get any of the mixture on the metal parts.
Leave overnight
Mix a quarter cup water with a quarter cup vinegar spray the oven walls and floor. Wipe well, using a nylon or plastic sponge for stubborn spots.
Rinse off the baking soda with 1 part vinegar to 1 part water to remove residue.
Remember to remove foil plugs from the bottom when you have finished.