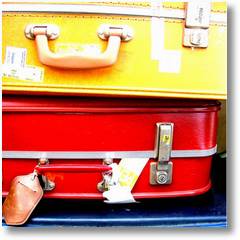 Here are some top tips to help you keep on the move while away from the home
1. Get your clothes professional laundered, however costs varies.
2. Keep your body clean with showers, antiperspirant and powder, and your clothes will stay cleaner on the inside.
3. Pick clothes for your trip that are easy to wash.
4. Buy as many drip-dry garments as you can.
5. Buy a universal sink stopper.
6. Take with you Ten feet of string to make a clothes line for drying.
7. Work up a lather using shampoo, bar soap or, in a pinch, laundry detergent, which requires more rinsing than the other two.
8. Wring out clothes.
9. Get a dry, clean towel, roll it up with your hard-to-dry wet stuff to shorten drying times. Twist or sit on the clothes while they're rolled.
10. Hang clothes near a vent, air-conditioning unit or window, or in sunlight.
Do you have some tips you would like to share? What you wating for drop us mail
[email_link]