The following recipe features juicy grilled chicken wings with garlic, oregano, cumin and chili, and grilled to crispy perfection. Make them for the family or double the recipe to feed a crowd. Use jumbo cut party wings for this recipe or just regular chicken wings.
If you like, you can marinate the wings in the seasoning blend for several hours before grilling them, to give them more flavor. This is optional but marinating is always a nice way to make the taste richer.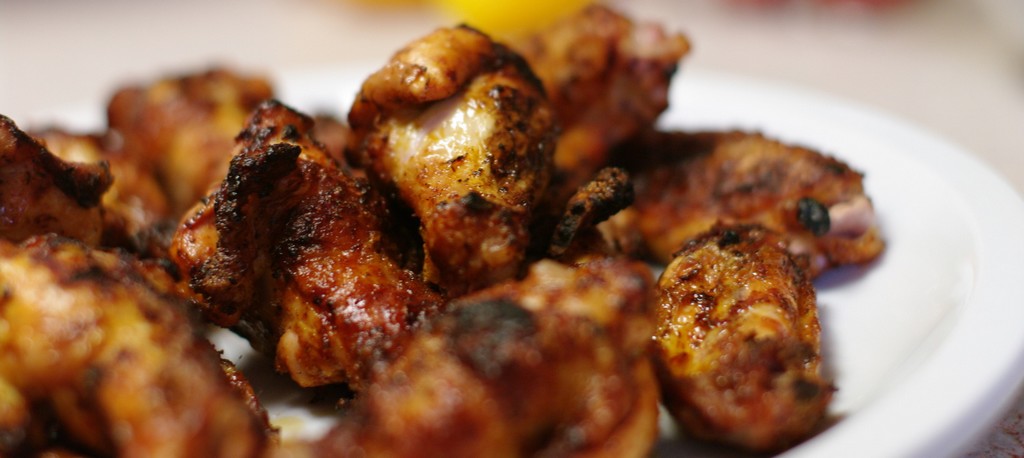 The oregano, cumin, garlic and chili give the chicken a fragrant aroma and flavor, and you can serve these with lemon wedges if you like, as well as perhaps some cornbread and coleslaw. This recipe will feed 2 if it is the main dish, or 3 or 4 if people will be eating other meat too. If you are having a cookout you might like to cook some steaks, burgers and these wings, in which case people will have a steak or burger plus a couple of wings rather than a whole plateful.
Leftover wings will keep for a couple of days anyway, so just put them in an airtight container and refrigerate until required. These are good for box lunches or picnics. Although the fact these are grilled makes them a great dish for the spring or summer, you can also make spicy chicken wings during the cooler months.
Either be brave, wrap yourself up warm and use the grill, or stay in your warm kitchen and cook them in the oven or on the stove if it is too cold to venture outside.
Grilled Chicken Wings with Garlic Recipe
Summary: This recipe is perfect for wing fans, since the chicken is seasoned with flavorful ingredients like garlic and cumin, and grilled to crispy perfection. These hot wings are perfect for cookouts, picnics and pretty much any other occasion.
Ingredients for Chicken Wings with Garlic recipe
2 lbs jumbo cut party wings
3 tablespoons olive oil
¼ teaspoon salt
½ teaspoon dried oregano
½ teaspoon ground cumin
2 crushed garlic cloves
1 teaspoon chilli powder
2 lemon wedges, to serve
Instructions for Chicken Wings with Garlic recipe
Preheat the grill to medium.
Combine the oil, salt, oregano, cumin, garlic and chilli to make your seasoning blend.
Grill the wings for 15 minutes, turning occasionally.
Baste them with the seasoning blend and cook for another 10 minutes or until they are cooked through.
Do not baste them during the final 5 minutes of cooking time.
Serve with lemon wedges.
Preparation time: 10 minutes
Cooking time: 30 minutes
Number of servings : 2