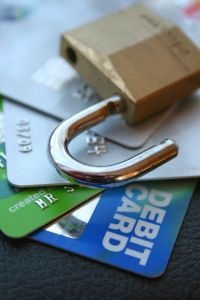 Credit Card Safety Guide show you how a number of easy ways to keep your credit card safe. Credit and debit cards have become a large part of our everyday lives and are an easy way to pay for goods or services. Unfortunately, they have also become a target for fraud which cost the economy millions per day. New initiatives such as Chip and PIN are helping to reduce this credit card fraud but we need to help themselves. Fortunately, there a number of preventive measures that can be adopted to use your credit cards safe:
Credit Card Safety Tip 1
Keep your credit card account number, password and PIN safe and secure. Do not carry your password or PIN with you or disclose the number to anyone, even if they claim to be from your credit card company or the police. Your credit card company will never ask for your full password or PIN so always be on guard if you are asked for this information. If you are unsure whether the caller is genuine, for safety offer to call them back on a recognized company number. Never call back on a direct line because you can not guarantee exactly where they are.
Credit Card Safety Tip 2
Keep you credit card safe by never let your card out of your sight. This credit card safety tip applies when using your credit card in a retail outlet such as a shop, restaurant or petrol station. For safety ask for the credit card terminal to be brought to you or accompany the member of staff to the till. Fraudsters can swipe your card through a skimming machine, make a note of your security number and create a clone from the card's magnetic strip.
Credit Card Safety Tip 3
Regularly check your credit card statements. It is important to carefully check your credit card statements and immediately question any transactions that you do not recognize. If you have internet banking then this can be done on a regular basis without having to wait for your monthly statement.
Credit Card Safety Tip 4
Always practice credit card safety by shielding your PIN from prying eyes, shield the keypad with your free hand. This will prevent anyone from 'shoulder surfing' or watching security cameras to get your PIN.
Credit Card Safety Tip 5
When shopping online only buy from recognized websites that have a land line and a full postal address. Never buy from a website that uses a mobile number or a PO Box address because it may be difficult to resolve any problems that may arise. Look out for websites that promote MasterCard SecureCode or Verified by Visa which offer enhanced security features when buying over the internet.
Credit Card Safety Tip 6
To keep the details of your credit card safe. Always shred credit card statements and receipts
Always use a cross-cut (confetti) paper shredder to dispose of unwanted card statements and receipts. Fraudsters have been known to search through rubbish bins for information to fraudulently use
Credit Card Safety Tip 7
For safety never carry more credit cards than you need. Before you leave home, think about where you are going and which cards you will need. There is no point in carrying more credit cards than are necessary because this will only increase the chance of cards becoming lost or stolen.