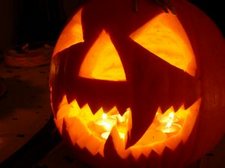 Halloween is coming again here are few ides for Halloween games which you can play with kids
Halloween Game: Pin the Tail on the Black Cat
Draw a big picture outline of a cat on black poster board with a glitter collar and glitter eyes and detachable tail.
Halloween Game: Jack O Lantern Toss-Five paper pumpkins
For the halloween pumpkins uses some newspaper and roll it into a ball shape and surround that with orange crepe paper for the pumpkin skin, twist on top and secure with green string or rubber band). Make different faces on each pumpkin with black marker. Have a look at the Jack O lantern stencils for further ideas
First Halloween game – toss into black cauldron or empty large pumpkin.
Second Halloween game – line pumpkins on table in row and knock off with small light balls or beanbags (I prefer beanbags).
Third Halloween game-roll into bowling ball pins try cheap ones from Walmart – like 5.00, alternatively empty soda liter
bottles. You can use the real miniature pumpkins for this if you don't want to make the crepe balls.
Halloween Apple bobbing-some people don't like this because of germs (others are okay with it) but
beware it does make a mess so needs to be outdoors!
How Much is in the Witches Jar Game
Guess how many candy corn in the jar to tie in with estimation in math. The winner that comes closest gets the candy or you can use Halloween M & M's as well.
Halloween Ghost Bingo Game
Buy some Bingo cards and replaced the word Bingo with GHOST and cut each card to fit inside my cutout of a ghost – lots of fun! Winner has to yell "I got the ghost!"

Howling Halloween Story Game
Tell spooky stories or create a spooky story chain.
Halloween Ghost Hunt Game
Make cutouts of graves, witches, ghosts, black cats and haunted house
shapes – each table has one shape to look for. Hide 6 of these shapes in the
room where the kids can spy for these from their tables and the first one to find all
of their group's shape wins.
Halloween Race Game
Blow up orange and black balloons then race with the balloons between the kids knees.

Halloween Face
Use some face paint to draw pictures of bats, ghosts, pumpkin shapes, on kids faces.