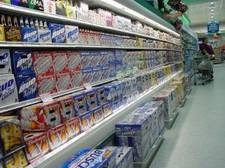 Use the follwing to keep more money in your pocket at the supermarket
Make a list and only buy what's on it. You'll find you shop quicker and are less tempted to spend money on things you hadn't planned to buy.
Take a calculator with you to the supermarket, or use the one on your mobile phone. Avoids the surprise at the checkout will help ensure that you stick to your budget.
Buy generic or 'no name' brands. Most of these products are the same quality as major brands, but because less money has been spend on branding and packaging, they are cheaper.
Check your receipt. Watch your shopping at the till and go over the receipt carefully before you leave, to check that offers such as '3 for 2' have been accounted for.
Make good use of supermarket coupons and money off vouchers. There are a number of sites on the web where you can print off grocery coupons, for example Coupons.com
Eyes down for a bargain. Supermarkets place expensive brands at eye level, and cheaper brands on the lower shelves.
Check the best before dates on food to check that it will not go off before you want to use it.
If you enjoyed this tip subscribe to the Newsletter