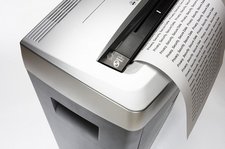 One of the best ways to reduce
identity theft
is to use a paper shredder to avoid identity theft of financial documents. As you will see in the identity theft shredding guide when you buy paper shredders they vary widely to their features, intended use and level of security. In addition paper shredder not only shred paper but are capable of shredding a variety of other items such as floppy discs, compact discs, DVDs, credit cards, staples and paper clips.
Paper Shredder Identity Theft Shredding Guide Step 1: Choose Your Cut
When buying a paper shredder you need to choose between two different types of shredder cuts:
Strip cut shredder
Cross cut shredder also known as a Cross paper shredder


Paper Shredder Examples Cross Cut Shred (left) and Strip Cut Shred (right)
Strip cut shredder
A strip cut shredder cuts paper into long thin strips that vary in width from 1.9mm to 10.5mm. From a security and identity theft point of view a strip cut shredder are no way as effective compared to a cross cut shredder because with a little glue and a lot of patience, a document can be restored to its original state. Strip cut paper shredders are suitable for everyday non-sensitive documents but for documents containing any personal information such as bank details, utility bills or passwords then a cross cut shredder is highly recommended.
Cross cut shredder
Cross cut shredders cut paper into tiny pieces (particles) that vary in size from 0.78mm x 11mm to 10.5mm x 80mm. In addition a cross cut shredder has increased security, the particles also compact under their own weight, which means that the waste box will require emptying less often. We recommend this type of paper shredder for use to reduce identity theft.
Paper Shredder Identity Theft Shredding Guide Step 2: Choose Your Shredder Type
The type of paper shredder best suited to your needs will depend on how often the machine is to be used and which level of security you require. As with most business machines, shredders are manufactured for different markets.
Paper Shredder Home Use – suitable for light home use of up to 20 sheets a day.
Home office Shredder – suitable for light to medium home office use of up to 50 sheets a day.
Office shredder – suitable for medium use in the office of up to 100 sheets a day.
Business shredder – suitable for heavy, continuous business use.
Paper Shredder Identity Theft Shredding Guide Step 3:Choose Your Security level
Paper shredders are assigned a security level in accordance with the Deutsche Industrial Norm (DIN) which ranges from DIN 1 (low security) to DIN 5 (high security). These security levels for paper shredders relate to how small the machine will shred the paper. DIN security levels have been specifically designed to standardize shredder production and help you make an informed choice when buying a paper shredder.
General documents DIN 1 Low security
This is suitable for general paperwork that does not contain any personal information. A strip cut shredder will produce single strips that vary from 10.5mm to 11.8mm wide and a cross cut shredder will create pieces ranging from 10.5mm x 40mm to 10.5mm X 80mm.
Home use and business internal documents DIN 2 Low to medium security
A strip cut paper shredder will produce single strips that vary from 3.9mm to 5.8mm wide and a cross cut shredder will create pieces ranging from 7.5mm x 40mm to 7.5mm x 80mm. This level of security is suitable for home use shredding and internal office documents such as computer printouts, personal notes and poor quality photocopies.
Business confidential documents DIN 3 Medium security
This is recommended for confidential business documents such as financial papers, marketing plans, personnel files. Strip cut shredders will cut extremely narrow strips of up 1.9mm wide and cross cut paper shredders will create small particles ranging from 3.9mm x 30mm to 3.9mm x 50mm.
Business sensitive documents DIN 4 Medium to high security
This level of security can only be achieved with cross cut paper shredders that can create very small particles of 1.9mm x 15mm. Sensitive documents that specifically relate to protecting your livelihood or the integrity of a company would require this level of security.
Top secret documents DIN 5 High security
This level of machine is specifically supplied to government and military locations where it is essential that documents are shredded to preserve national security. As with DIN 4, this can only be achieved with a cross cut shredder that create extremely small particles of 0.78mm x 11mm.
Best Paper Shredder Recommendation: Fellowes powershred ds-1
We recommend the fellowes paper shredders in particular the powershred ds-1 as worthy consideration for home use, its able to cope with shredding credit cards and staples.
Fellowes seem to get have a wide selection of shredders which are reliable and highly rated by consumer magazines and personal reviews combined with good customer service.