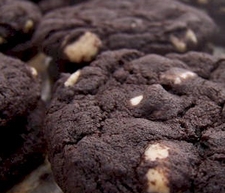 This white chocolate chip cookie recipe is perfect for those times when you need the gorgeous taste of chocolate. The secret here is the unique flavor of Dutch processed cocoa powder with white chocolate chips. Make the perfect accompaniment to a glass of milk.
Here is what you need to make White Chocolate Chip cookies:-
1/2 cup (113 grams) unsalted butter, room temperature
1/2 cup (110 grams) light brown sugar
1/4 cup (50 grams) white granulated sugar
1 large egg
1 teaspoon pure vanilla extract
1 cup (140 grams) all purpose flour
1/4 cup (30 grams) Dutch processed cocoa powder like Droste Cocoa

1/2 teaspoon baking soda
1/8 teaspoon salt
1 1/2 cups (260 grams) white chocolate chips
How to Cook These Beauties
Preheat oven to 350 degrees F (177 degrees C) and place rack in center of oven. Line two baking sheets with parchment paper.
In the bowl of your electric mixer (or with a hand mixer), cream the butter and sugars until light and fluffy (2-3 minutes). Add the egg and vanilla extract and beat until incorporated.
Sift together the cocoa powder, flour, baking soda, and salt. Now add to the butter and egg mixture. Mix just until incorporated. Fold in the the white chocolate chips to the cookie mixture.
Using a small ice cream scoop or two spoons, place about 1 1/2 tablespoons of the cookie mix recipe onto the prepared baking sheet, placing them about 2 inches (5 cm) apart.
Now bake the white chocolate cookies for approximately 8 minutes or until the cookies are still soft in the center but are firm around the edges. Remove from oven and let cookies cool on baking sheet for about 5 minutes before removing the cookies to a wire rack to cool completely.
Makes 24 3 inch round White Chocolate chip cookies.
Tip
The white chocolate cookie recipe freezes well so you can cook them fresh on those days when you need a freshly baked cookie on demand.
Roll the cookie mix into 1 inch (2.54) balls
Place on a parchment lined baking sheet freeze
Once frozen place balls into freezer bag and freeze
To cook just preheat oven as directed, remove cookies balls from freezer and place the onto parchment paper, and cook as directed
Nat one of our reader said "Use chocolate chips instead of white chocolate, and regular baking cocoa instead of the Dutch processed, and they come out delicious. They didn't harden after cooling either."